Creative networks and membership galleries are one of the best ways to expose your work and get feedback from colleages and contact with current and potential clients, but also to get inspired and learn from the work of others to improve their skills.
In this post we've compiled 10 of the most used and useful social networks for web designers.
Dribbble
Dribbble is show and tell for designers where they can share small screenshots (shots) of the projects they are working on and get opinions from other designers. There are two types of members at Dribbble, players, who can post shots and comments and are invited by current members, and spectators, who can follow and discover shots and people on Dribbble, but cannot post shots and comments. Anyone can sign up as a spectator.
Dribbble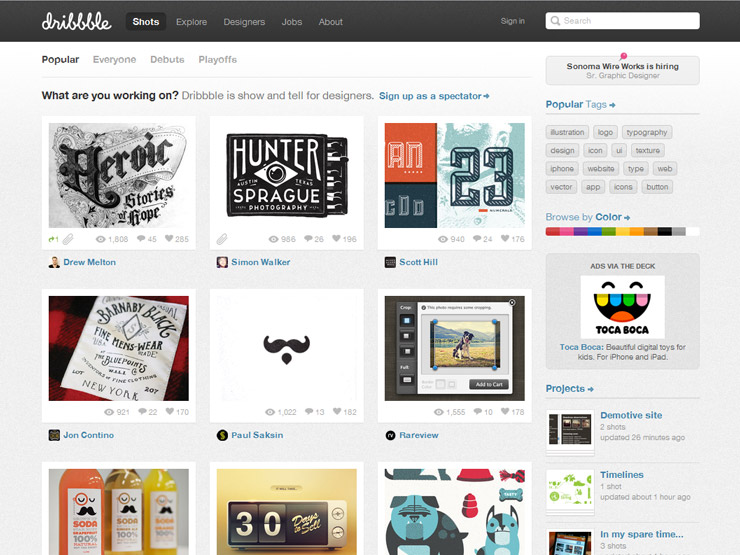 Dribbble
Cargo
Cargo is an online portfolio platform that allow its members to create free standing personal websites with their own URL with a wide variety of templates. A personal network of their own creation allows members to follow and comment on the work of others. The Cargo service is by invite only.
Cargo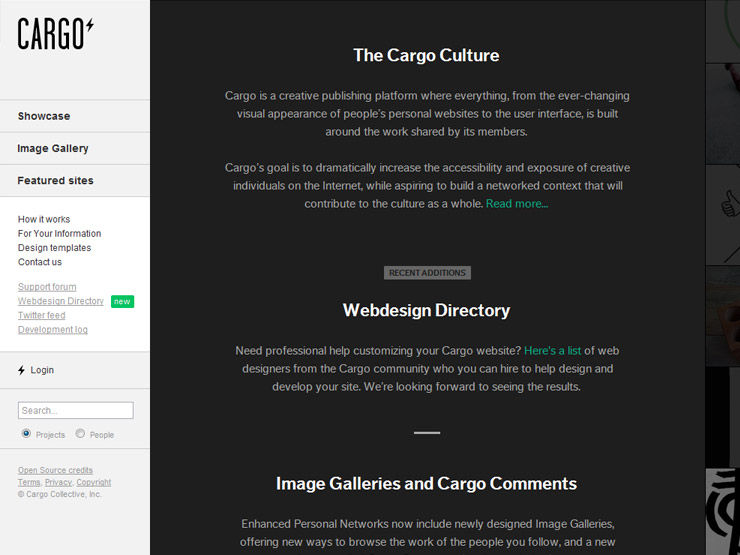 Cargo
LOVEDSGN
LoveDsgn is a social website for designers, typographers, all kinds of creative people. It's a platform for sharing, discussing and improving creative output. To join the network, you have to be invited by a current user or request an invitation from LoveDsgn.
LOVEDSGN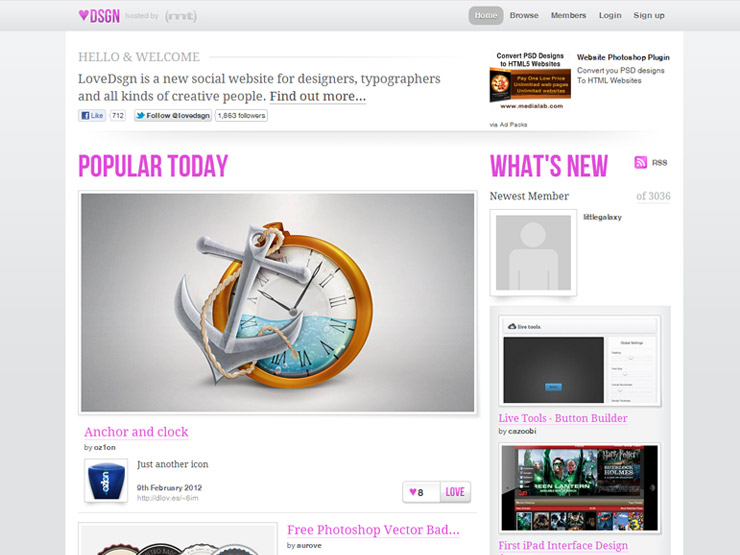 LOVEDSGN
Image Spark
Image Spark lets users upload and create a library of images that inspire them and help setting the visual direction of their projects. Image Sparks lets members organize images in moodboards and tag them, a moodboard is a collection of images arranged on a canvas, where they can be positioned, layered and scaled. Sharing images and moodboards is optional, they can be private. Also, users can browse through other user's libraries and moodboards. Image Spark is free to use. Each new account is assigned 1GB of storage space and two moodboards.
Image Spark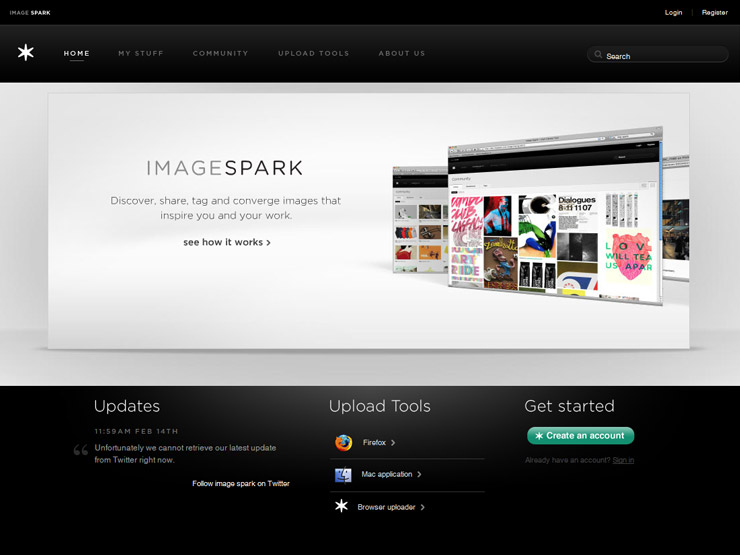 Image Spark
Pinterest
Pinterest is an online pinboard that lets users organize and share images and videos they find on the web. Users can browse pinboards created by other people. To join the network, you have to be invited by a current user or request an invitation from Pinterest.
Pinterest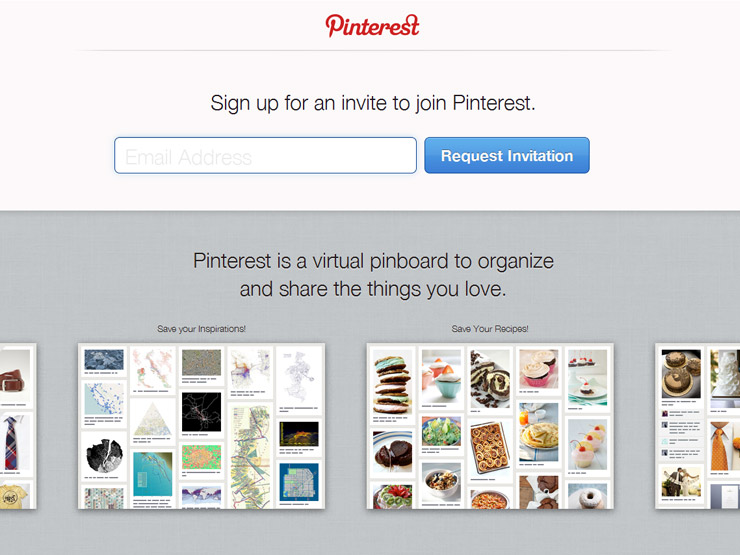 Pinterest
Behance
The Behance Network is one of the most famous online portfolio platforms for creative professionals to showcase their work and discover what other people are doing across creative industries. In July 2010, Behance announced a collaboration with Linkedin to provide portfolio display capabilities on LinkedIn profiles. According to its own site, The Behance Network gets 15 times the traffic of all other leading portfolio sites combined.
Behance also counts with The 99%, a content based website, consulting service, and annual conference in New York City, that focus on best practices for pushing ideas forward.
Behance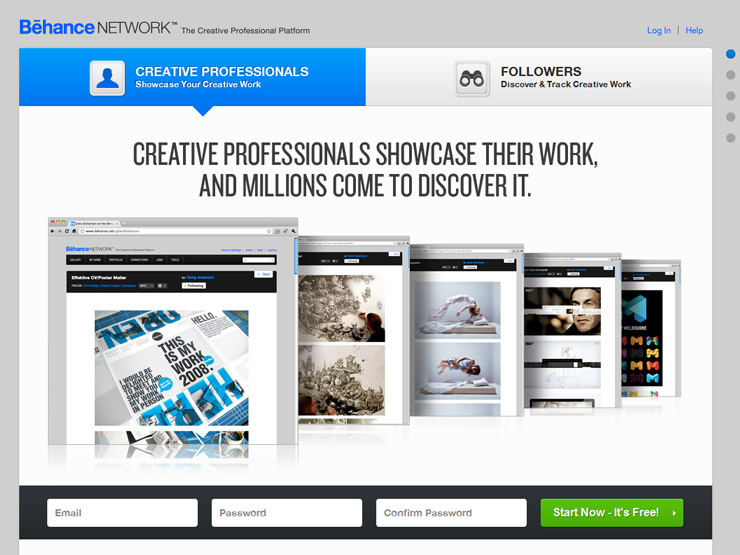 Behance
Pixel Groovy
Pixel Groovy is a user-controlled tutorial directory. Members decide which tutorials are published on the front page and which tutorials aren't. When a tutorial is submitted to Pixel Groovy, it initially goes to the "Groove" section of the site, where the community can vote for it. An unregistered user can see all the same tutorials a registered user can.
Pixel Groovy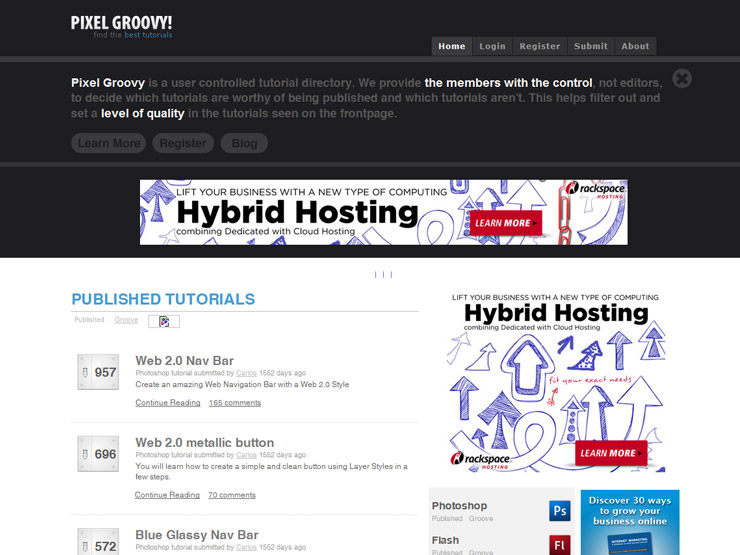 Pixel Groovy
Designmoo
Designmoo is a community for sharing free PSDs, vectors, textures, patterns, fonts, and more. It's a great network of designers and community resources and provide a centralized location for finding great-looking free design resources.
Designmoo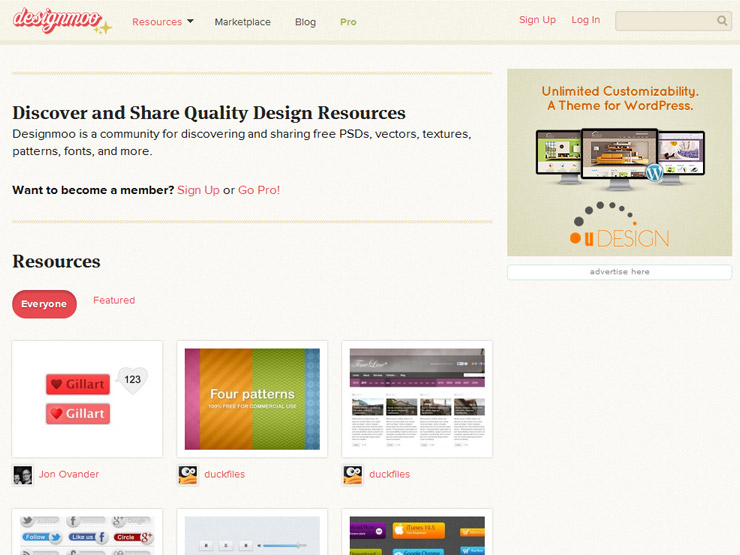 Designmoo
FFFFound!
FFFFOUND! is a web service that allows the users to post and share their favorite images found on the web, but also dynamically recommends each user's tastes and interests for an inspirational image-bookmarking experience. FFFFOUND! Is an invitation based service.
FFFFound!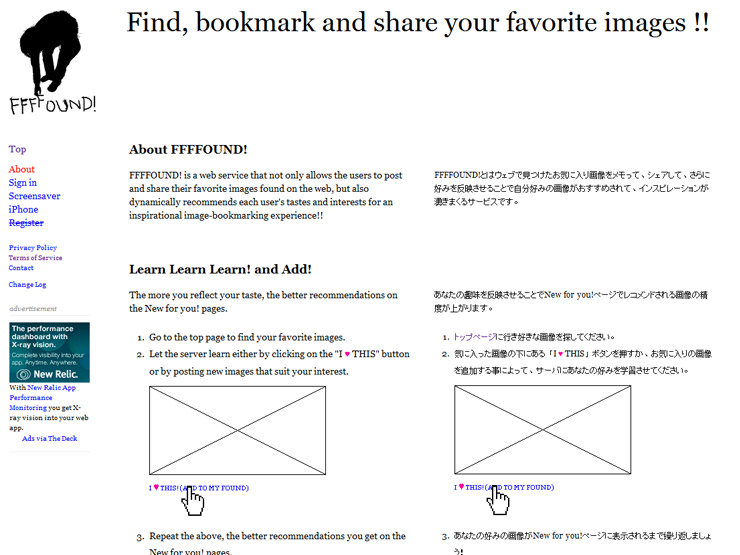 FFFFound!
COLOUR Lovers
COLOUR Lovers is a creative community where people create and share colors, palettes and patterns, discuss the latest trends and explore colorful articles.
COLOUR Lovers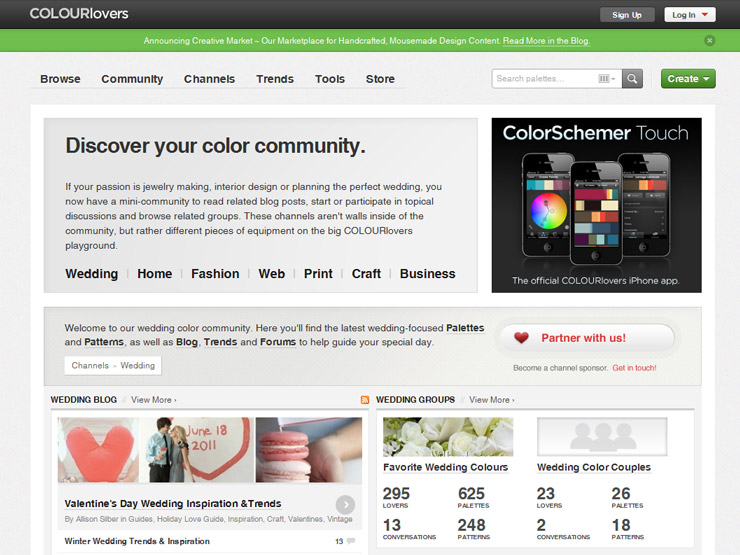 COLOUR Lovers